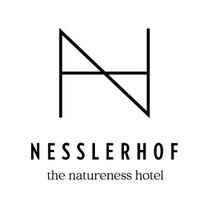 Hotel Nesslerhof
Dream destination amid marvellous Alpine scenery
The four-star superior hotel Nesslerhof is located amid the beautiful Alpine meadows of the Hohe Tauern National Park, only a short distance from the Grossarl lift station. The hosts, Tina and Hermann Neudegger, see themselves as #guestwhisperers. Superior service, fascinating architectural design and living tradition combine to create a mountain retreat beyond the ordinary.
This is the ideal destination for relaxation seekers and gourmets. The hotel's excellent location at the heart of the Grossarl-Dorfgastein ski region provides amazing ski experiences and inspiring encounters out in nature. At the Nesslerhof, spa and ski hotel in Salzburg, guests will find a bespoke getaway that has it all: adventure, relaxation and gourmet food. With warmth, genuine commitment and an almost divine understanding of what their guests need, the Nesslerhof hosts provide a spa experience amid idyllic nature which you will never forget.
Highlights:
Excellent location in the Salzburg Land
Completely new annex building & spa
Panoramic sauna- & waterscape
Gourmet foods & daily culinary treats
In-house butchery
Weekly programme of sports & activities
Rooms & Facilities
Hotel Nesslerhof has recently been expanded by an impressive annex building. The opening of the "ZWANZIG SECHZEHN" was a landmark moment in the hotel's history, creating new standards of spatial design. Charming décor, contemporary architectural design and wide open spaces characterise this place, which provides the ideal retreat for anyone looking to escape. The stylish rooms and suites, each featuring the finest locally sourced materials, invite you to let go and focus on yourself.
Included services
Gym
i
The hotel gym, covering over 83m², features high-quality Precor equipment and a terrace.
Parking
Air conditioning
Reception
i
The reception is open 24 hours a day with someone always on hand to answer any queries.
Services and information
Location
i
The Nesslerhof nestles between the beautiful mountains of the Grossarltal in Austria.
3000 m² Garden
Meeting facilities
i
The hotel facilities include two rooms fully equipped for conferences and corporate events.
Accessibility
Shuttle service
i
We will be happy to organise a pick-up service from the nearest train station or airport.
Dogs welcome
Early check-in and late check-out
i
The hotel offers the option of early check-in and late check-out. Please request in advance.
E-bike and e-scooter rental
i
We have our own bike room with mountain bikes for rent.
Live music
i
The hotel regularly offers live music and evening entertainment.
Laundry service
i
We can organise a laundry and ironing service upon request.
Room service
i
Please talk to the reception in advance if you wish to avail of our room service.
Food & Drink
The fine dining experience offered at the hotel reflects a unique concept of modern luxury and traditional charm. Sophisticated elegance and understated luxury seamlessly combine with carefully arranged Alpine décor and grand views out into the stunning Grossarltal. The kitchen team gives fine expression to the daily delights served at our restaurant. Locally foraged ingredients and succulent meats from our own butchery are cooked to perfection. Host Tina Neudegger, herself a trained sommeliere, will be delighted to recommend a bottle from our in-house wine cellar, which is home to over 250 excellent wines.
Included services
Luxury board
i
The hotel's gourmet board includes a sumptuous breakfast, delicious afternoon snacks, an aperitif and a five-course dinner every night.
À la carte restaurant
i
Guests enjoy a five-course à-la-carte dinner daily and one gala dinner a week.
Vegetarian cuisine
i
Please ask for our daily vegetarian options.
Vegan cuisine
i
The kitchen team is also prepared to conjure up delicious and healthy vegan meals.
Services and information
Diet cuisine
i
The kitchen team will be happy to adapt the menu to your individual diet.
Wine tastings
i
We regularly host wine tastings with the best winemakers in Austria.
Spa & Beauty
The Nesslerhof features a very large spa area and unique quiet rooms. Each guest will be able to find their very own lounger in the spa. Two natural swimming ponds, a panoramic indoor pool, a heated infinity outdoor pool as well as a salt-water outdoor pool with massage jets make up the incredible pool area of 805m². Unwind in one of our many different saunas and take in the beautiful views of surrounding nature. This exceptional spa hotel in Salzburg will make it easy for you to indulge in the pleasures of a spa holiday.
Included services
940 m² Spa
2 Outdoor pools
2 Natural bathing ponds
5 Saunas
Family sauna
Outdoor sauna
i
Hotel Nesslerhof provides several different saunas with great views.
Infrared
Services and information
1 Indoor pool
Treatments & Products
Wonderful massages and beauty rituals combined with luxury skincare by Comfort Zone, Ligne St Barth and Balance Alpine 1000+ ensure a spa experience that is lacking in nothing. Discover the invigorating effects of a visit to our spa and feel reborn. Whether you are looking to be pampered with a facial treatment, a soothing full-body treatment or an indulgent bath; the experienced beauty experts at our spa ensure that you're in the best hands with us at Hotel Nesslerhof.
Services and information
Massage
Body treatments
Treatments for two
Beauty treatments
Sports & Activities
With the surrounding mountains providing year-round activities and adventures, the Nesslerhof has become a top destination for spa breaks and activity holidays in Salzburg. The Neudegger family share with their guests a great love for mountains. In summer, the Salzburg spa hotel and surrounding region offer infinite hiking pleasures and bike trails to explore the mountains and valley. In winter, this is the place to be for skiers and winter sports enthusiasts.
Included services
Yoga
i
The Hotel Nesslerhof's experienced yoga teacher offers yoga classes year-round.
Hiking
i
Over 250 well-signposted hiking trails meander through the Grossarltal in Salzburg, starting on the hotel's doorstep.
Biking
i
The hotel is situated amid a network of 120km of official bike routes which inspire to explore the region on the saddle of your bike.
Skiing
i
The Grossarltal ski region has slopes for beginners, advanced skiers and professional athletes.
Cross-country skiing
i
The Grossarltal provides over 25km of perfectly groomed cross-country ski tracks.
Bike rental
i
Mountain and e-bikes are available for rent directly at the hotel.
Family & Fun
The Neudegger family passionately care for each of their guests and have great offers for children. They believe that there is no age limit to experience a joyful family getaway at the Nesslerhof. The spa hotel at the heart of Salzburg, amid the romantic Grossarltal, pampers guests of all ages with everything they could possibly desire. The hotel's highlights include a fully refurbished spa, 805m² pool area as well as a spacious family area. A generous playground and our own little farm can be explored on the doorstep of the hotel.
Included services
Childcare
i
The Nesslerhof offers free childcare on five days a week during holiday season.
Contact and directions: Hotel Nesslerhof