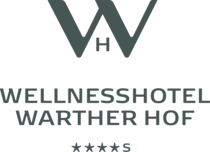 Wellnesshotel Warther Hof
Enjoy a #holidayforthesenses in Vorarlberg
The four-star superior hotel Warther Hof is situated in the charming Alpine village of Warth. This hotel is waiting to indulge all of your senses. Take in beautiful mountain vistas; breathe in the exhilarating scent of mountain herbs; treat your palate to Alpine cuisine; harmonise body and soul with the touch of our skilled spa therapists; and listen to the sounds of nature.
The Warther Hof provides a #holidayforthesenses for all those looking to get active or be idle – or do a little bit of both. Families and gourmets, relaxation-seekers and sports enthusiasts, all are welcome. Covering an area of 3,000m², the spa offers holistic wellbeing and exquisite moments of serene tranquillity. Discover the culinary art of the Alps and soak up the sun on our hotel's terrace. What is best: Austria's largest ski region starts on the doorstep of the hotel. What more could you ask for during an active holiday or spa break in Vorarlberg?
Highlights:
Active holidays high up in the Alps
Holistic spa experience on 3,000m²
Sauna & pools with panoramic vistas
Culinary journey of discovery
In the midst of a ski & hiking paradise
Warth Card included in summer
Rooms & Facilities
Rest and relax during your spa escape in Vorarlberg, far removed from the stresses of everyday life. The rooms and suites of this four-star superior spa hotel reflect the hosts' vision of providing a #holidayforthesenses throughout, combining the calming scent of pine wood with the power of the hotel's natural surroundings. Indulge the warm atmosphere created by homely interiors and crackling fireplaces. Rooms designed in locally sourced natural wood make for the perfect environment in which to enjoy blissful moments of holiday joy.
Included services
Parking
Air conditioning
Library
Services and information
Accessibility
Dogs welcome
Hair salon
Lift ticket sales
Food & Drink
The stylish restaurant with its unique dining halls combining rustic Alpine chic with modern luxury, and the sunny terrace with its breathtaking views promise a fine dining experience hardly to be found anyplace else. In our kitchen, we emphasise the importance of regional produce and skilfully combine fresh ingredients from local farms and dairies with international specialities. Taste genuine passion for haute cuisine every day of your holiday and let us take you on a culinary journey of discovery for all the senses.
Spa & Beauty
With its 3,000m² spa, this four-star superior hotel offers rest and relaxation at its finest. Let us pamper you with a holistic spa journey and our refurbished saunascape, which has it all: a mountain view sauna, Finnish sauna, bio-sauna, pine sauna, steam bath, clothed sauna and infrared cabin. Refresh your senses with a dip in our plunge pool, nude pool or whirlpool, or simply relax taking in the superb views of the surrounding mountain world provided by the extra-large windows in our waterscape and quiet rooms.
Included services
2000 m² Spa
1 Indoor pool
1 Outdoor pool
6 Saunas
Adults-only
Family sauna
Infrared
Treatments & Products
The Warther Hof spa hotel promises a #holidayforthesenses and pampers you with a host of bespoke spa and beauty treatments. Treat your body to a well-deserved massage and regenerate your skin with our deeply nourishing wraps or a revitalising bath. Exclusive skincare by Dr Babor, Balance Alpine 1000+, Vinoble Cosmetics and Ligne St Barth will indulge your senses. Let our experienced spa experts take care of your wellbeing during your luxury spa break in Vorarlberg.
Services and information
Massage
Body treatments
Treatments for two
Lymphatic drainage
Singing bowls
La Stone therapy
Ayurveda
For mothers-to-be
Hair salon
Beauty treatments
Sports & Activities
The Warther Hof is beautifully located in the heart of the idyllic Arlberg region, enclosed by towering mountains and lush green meadows. This region has a wealth of activities. The mountains invite you to explore the beautiful scenery around the Warther Hof spa hotel year-round. Discover beautiful hiking trails and magnificent mountain lakes in summer and venture into Austria's largest ski region in winter. If you prefer some indoor activity, we also offer training and yoga classes, ensuring an active holiday in Vorarlberg.
Family & Fun
At the Warther Hof in Vorarlberg, you can experience a #holidayforthesenses with your family. Extra-spacious family rooms, professional childcare, an action-packed outdoor playground and our youth club await. Explore nature's paradise and enjoy a family spa holiday with a clothed sauna, heated indoor and outdoor pools and a great variety of spa treatments for children and adults to choose from.
Contact and directions: Wellnesshotel Warther Hof