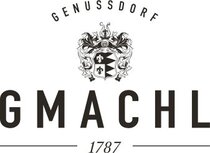 Genussdorf Gmachl – Hotel & Village Spa
A #gourmetvillage for your body, mind and palate
The Genussdorf Gmachl in the Salzburg Land has built its philosophy on the principles of village life, reflecting down-to-earthness, a respect for nature and people, as well as authenticity. A family business run by the seventh generation, we invite guests to leave daily cares behind and create memorable memories only three kilometres outside the gates of the city of Mozart.
Whether you are visiting for a romantic spa getaway, a gourmet break with friends, an inspiring culture trip or an adventurous city escape, the Gmachl family's living dreams are palpable throughout the hotel. Precious natural materials, contemporary design and modern comfort have made the hotel and each of its rooms stand out with unique character.
Highlights:
Near the City of Mozart, Salzburg
Unique village charm with an urban touch
Generous spa spread out over four levels
Rustic country inn & restaurant
FRANZ brewery & butcher
Village shop with homemade delicacies
Rooms & Facilities
We have a passion for all things authentic, natural, beautiful and homemade, which reverberates through the entire Genussdorf Gmachl. Our roots in local tradition become most visible in the locally sourced materials we have used throughout the hotel. The exceptional harmony and homeliness which set our place apart have been created from our love of detail and our courage to face and initiate change.
Included services
Gym
i
Our spa hotel offers a generous gym spread out over 120m².
Parking
Air conditioning
Library
3 Electric charging stations
Reception
i
The reception is open 17 hours a day with someone on hand to answer any queries you may have.
Services and information
Location
i
The Genussdorf Gmachl is situated in Bergheim, a quaint little village close to Salzburg.
10000 m² Garden
Accessibility
Dogs welcome
Hair salon
Early check-in and late check-out
i
Early check-in or late check-out can be organised upon request.
E-bike and e-scooter rental
i
The spa hotel provides rental bikes, trekking bikes, e-bikes and city bikes for free.
Laundry service
i
We offer a hotel laundry service to our guests for a small fee.
Room service
i
Room service is available to guests for an extra charge.
Food & Drink
At the Genussdorf Gmachl, we know how to indulge guests. Our haute cuisine has been distinguished by Gault & Millau. The kitchen team creates mouth-watering treats for the palate inspired by local village traditions. Our in-house butchery prepares meat according to the Gmachl philosophy, following the principles of nature and authenticity. The same applies to our very own brewery. Enjoy the Gmachl gourmet board and savour traditional specialities freshly prepared at the Genussdorf Gmachl and sold at our lovely little village shop.
Included services
Luxury board
i
Our gourmet board treats guests to a regionally inspired breakfast, a hearty afternoon snack and a delicious five-course dinner.
À la carte restaurant
i
The award-winning restaurant "Franz der Wirt" serves inspiring à-la-carte dishes every day.
Vegetarian cuisine
i
Our daily menu also includes a range of vegetarian options.
Vegan cuisine
i
Vegans will love the delightful vegan options served up at the restaurant.
Services and information
Awards
i
The kitchen at our spa hotel has been presented with one toque by Gault & Millau.
Spa & Beauty
We consider the village our origin, our source of inspiration and of life. The spacious Village Spa provides indulgence spread out across four levels. At the Rooftop Spa, guests enjoy incredible views of Hohensalzburg Fortress. The Vitarium Spa provides regenerative relaxation and renewed energy using the power of plants and herbal essences. Discover a harmonious symbiosis of green and blue at our lush Garden Spa. Or let loose and enjoy deep relaxation in our luxurious loungers.
Included services
3000 m² Spa
1 Indoor pool
2 Outdoor pools
1 Natural bathing pond
6 Saunas
Adults-only
Family sauna
Outdoor sauna
i
The Garden Spa at our spa hotel also includes a 95°C outdoor sauna.
Infrared
Services and information
Private spa
i
Enjoy a romantic spa experience in our private spa with whirlpool, sauna, double bed and champagne.
Treatments & Products
At the Genussdorf Gmachl we offer regenerative beauty rituals and revitalising body treatments, ranging from classic massage to Ayurveda. Ancient wisdom and the natural power of herbs combine with modern expertise to provide guests with renewed energy and a new sense of wellbeing. Our experienced therapists use the finest skincare by Balance Alpine 1000+, Maria Galland, Dr Babor, Malu Wilz Beauté, Haslauer and Krichbauer, as well as homemade essences to create an invigorating experience in a deeply relaxing environment.
Services and information
Massage
Body treatments
Treatments for two
Lymphatic drainage
Singing bowls
La Stone therapy
Ayurveda
For mothers-to-be
Hair salon
Beauty treatments
Sports & Activities
Be active and feel alive. Get your heart pumping in the morning and relax in the evening. Movement is one of the most important pillars of a healthy life. The Genussdorf Gmachl combines exercise, relaxation and enjoyment. At our hotel in Bergheim, we show that activity and indulgence do not have to be mutually exclusive, but create a well-balanced symbiosis. The Gmachl family reinterprets exercise and ensures their guests find delight in sports, be it in running and hiking, cycling and mountain biking, gymnastics, golf or tennis.
Included services
Yoga
i
As part of our daily hotel activities we offer several yoga classes every week.
Hiking
i
The Gmachl spa hotel is the perfect starting point to explore the surrounding natural environment and to go on extensive hikes.
Biking
i
Hotel Gmachl also provides the ideal base to venture out into the great outdoors on the saddle of your bike.
Tennis
i
The Bergheim tennis camp with its indoor and outdoor courts is located only one kilometre from our spa hotel.
Skiing
i
Hotel Gmachl is your gateway to many top-notch ski areas in the Salzburg Land, some of which can be reached in less than 30 minutes.
Cross-country skiing
i
Several cross-country ski tracks are available in surrounding villages and only a short distance from the hotel.
Bike rental
i
The Gmachl spa hotel has plenty of bikes on site, always at your disposal free of charge.
Services and information
Golfing
i
There are nine golf clubs near the hotel, offering the kind of courts golfers look to defeat.
Contact and directions: Genussdorf Gmachl