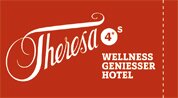 Theresa Gourmet & Spa Hotel
Welcome to the Zillertal for a #gourmetgetaway
This hotel at the heart of the Zillertal is dedicated to making your holidays a full gourmet experience. At the THERESA, you are invited to let go and indulge. For three generations, the Egger family have approached every request with genuine commitment and passion. Their rare esprit and the hotel's secluded location promise to make your spa break in the Tyrol unforgettable.
Look out over 150,000m² of Alpine pastures and take in breathtaking views of towering mountains from the comfort of this exceptional hotel. Experience exquisite spa moments on 3,500m². Soothing treatments allow you to unwind and five heated pools are waiting to invigorate your senses during your spa break at Hotel THERESA in the Tyrol.
Highlights:
Soothing spa experience on 3,500m²
Chlorine-free swimming in five heated pools
Groomed garden amid 150,000m² pastures
Sports & activities in a stunning scenery
Fresh & seasonal gourmet delights
Rooms & Facilities
The hotel's #gourmetgetaway philosophy also extends to the its interiors. The Egger family has created a tasteful environment reflecting the successful integration of traditional Tyrolean craftsmanship into modern architectural design. Typical rural furniture pieces enter into a harmonious symbiosis with Murano glass structures. That very combination of opposites is also what makes a stay at this hotel so attractive, along with the lovingly decorated rooms and suites providing a luxurious retreat with a homely ambience.
Included services
Gym
i
Hotel THERESA features a modern gym as well as a wide range of sports and activities.
Parking
Air conditioning
Shuttle service
i
Upon request we can organise for our hotel shuttle to pick you up from the train station or take you to any of the nearby sights and destinations.
Library
3 Electric charging stations
Reception
i
The reception is open 24 hours a day with someone ready to answer any of your queries day and night.
Live music
i
The hotel regularly provides the venue for live music events.
Services and information
Location
i
The THERESA spa hotel is located in Zell amid the stunning Zillertal in the Tyrol.
2500 m² Garden
Meeting facilities
i
The hotel is perfectly equipped to host conferences, corporate meetings and other events.
Accessibility
Dogs welcome
Hair salon
Early check-in and late check-out
i
We offer the option of early check-in and late check-out upon request.
E-bike and e-scooter rental
i
Guests can rent e-bikes and mountain e-bikes for a small fee payable at the reception.
Laundry service
i
Please ask for our laundry and ironing services.
Room service
i
Room service is available upon request.
Food & Drink
During your spa break at the THERESA, culinary delights are not far to seek either. To fulfil our promise of the perfect #gourmetgetaway, we conjure up delicious specialities from only the best of Alpine ingredients. Regionality and sustainability are the pillars of our cooking philosophy. The kitchen team is constantly devising innovative delights for gourmet guests. Inspired by the Metabolic Balance approach, we aim to combine traditional recipes with new techniques. The hotel's knowledgeable sommeliers can recommend the best pairings for locally inspired dishes. Experience the THERESA #gourmetgetaway and indulge your taste buds.
Included services
Luxury board
i
The hotel's gourmet board includes a delicious breakfast buffet, afternoon refreshments and organic snacks as well as a five-course dinner with options to choose from.
Diet cuisine
i
Our kitchen team will be glad to adjust each of the dishes on our menu to your individual dietary requirements.
Vegetarian cuisine
i
Vegetarians will also find a large selection of dishes to choose from on our daily menu.
Services and information
À la carte restaurant
i
Guests enjoy a five-course dinner and à-la-carte specialities every night of the week.
Wine tastings
i
The generous wine cellar of the hotel has many carefully selected bottles just waiting to be uncorked.
Spa & Beauty
The 3,500m² spa provides five different swimming pools, including a 25m sport pool and a 35°C salt-water pool beautiful garden views. A generous saunascape and several quiet rooms complete the THERESA spa experience. Treat yourself to a well-deserved break and experience a new sense of wellbeing as body, mind and soul are harmonised. Enjoy an entirely chlorine-free swimming experience and dive into the healthy springwater of our five pools. Or simply relax in one of six relaxation areas with superb views. The THERESA provides a spa holiday experience hardly to be found anywhere else in the Tyrol.
Included services
3500 m² Spa
1 Indoor pool
3 Outdoor pools
1 m Sports pool
7 Saunas
Adults-only
Outdoor sauna
i
The 80°C Finnish sauna is set in our beautiful garden and features excellent views out into nature.
Infrared
Services and information
Hammam
Treatments & Products
Leave all your daily cares behind and melt away tension and negative thoughts with our beauty and massage treatments. Our THERESA spa experts use the finest natural skincare by Balance Alpine 1000+, Ligne St Barth, Maria Galland and Alpienne, restoring your natural beauty and your skin's radiance. Each of our treatments and massages are designed to provide deep relaxation and moments of blissful serenity.
Services and information
Massage
Body treatments
Treatments for two
Lymphatic drainage
Singing bowls
La Stone therapy
Ayurveda
For mothers-to-be
Hair salon
Beauty treatments
Sports & Activities
Experience the imposing mountains of the Zillertal up close and venture out into the great outdoors. The THERESA is the ideal base to explore the giant adventure playground provided by the hotel's natural surroundings. Rich green pastures and crystal-clear mountain lakes await in summer, while winter attracts guests with pristine slopes. The THERESA is the perfect retreat for an active holiday in the Zillertal year-round.
Included services
Yoga
i
Qualified yoga teachers offer yoga classes at the hotel for both new and advanced yogis.
Hiking
i
At the THERESA guests benefit from 1,000km of hiking trails.
Biking
i
The Zillertal offers a vast network of cycling and biking routes.
Tennis
i
Tennis fans can use our indoor court for free and book a tennis instructor for an extra charge.
Skiing
i
The Zillertal offers 671km of slopes, perfectly suited for beginners and advanced skiers.
Cross-country skiing
i
The Zillertal has 200km of excellently groomed cross-country ski tracks.
Services and information
Golfing
i
The Zillertal golf club offers the kind of courses every golfer is dreaming to defeat. Both beginners and professionals will get their money's worth.
Bike rental
i
Bikes are available for free; e-bikes and mountain bikes can be rented for an extra charge.
Family & Fun
Hotel THERESA and the Zillertal region offer a wide range of sports and activities for an exciting family holiday. Themed trails and multifaceted hiking routes encourage even our youngest guests to explore nature or discover local culture. The local sights include castles as well as historic mining sites, which are not only fun to visit, but also provide some interesting insights of the region's history. They also ensure that a family holiday in the Tyrol will be many things but boring. Our qualified childcare staff always has something fun in store for the kids, providing games and adventures six days a week.
Included services
Childcare
i
Professional childcare is available six days a week.
Kids club
i
The children's club provides fun games, arts and crafts, sliding fun and many more highlights, all free of charge.
Youth entertainment
i
We also offer a supervised programme for youth six days a week.
Kids entertainment
i
The THERESA spa hotel offers great sports opportunities and fun games for kids, ranging from arts and crafts to painting and hiking trips.
Contact and directions: Theresa