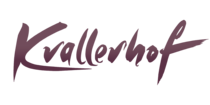 Krallerhof
#natureartandrelaxation at its finest in Salzburg
The Krallerhof is a four-star superior hotel sitting atop a sunny plateau in the Salzburg Land. The hosts, the Altenberger family, are known for their love of nature and all things beautiful. Experience luxurious comfort, genuine hospitality and typical Alpine charm. The tasteful décor features original art and lends the spa hotel in Salzburg its unique atmosphere.
The rugged mountains to the north of the hotel are almost 230 million years old. They provide a fascinating contrast to the green rolling hills in the south. In this mystical place, the power and beauty of nature become visible all at once. Experience the energy of this special place and reside in the majestic Krallerhof, your personal retreat amid fascinating nature.
Highlights:
Unique collection of art
Right beside the slopes & ski school
Lift tickets included in summer
Family holiday experts with many extras
Rich history & living tradition
Rooms & Facilities
Treat yourself to a spa break in Salzburg and discover a hotel seamlessly combining stylish interior design with traditional hospitality. This hotel has devoted itself to indulging its guests and sharing with them the diversity of the region. 124 artfully decorated rooms and suites impress guests with comfort at the highest level. The living spaces created by the Krallerhof team showcase original design pieces and high quality décor far removed from international cliché and conventional Alpine chic.
Included services
Gym
i
The hotel provides you the options of training indoors or exploring a range of sports in the Leogang mountains.
Parking
Air conditioning
Library
4 Electric charging stations
Reception
i
The reception is open 24 hours a day.
Live music
i
Enjoy live music right at the hotel five nights a week.
Services and information
Location
i
The Krallerhof spa hotel sits atop a sunny high plateau at the heart of Leogang.
Meeting facilities
i
Our in-house conference centre offers up to eleven rooms with space for ten to 360 participants.
Accessibility
Dogs welcome
Hair salon
Early check-in and late check-out
i
We provide the option of early check-in and late check-out upon request.
Lift ticket sales
E-bike and e-scooter rental
i
E-bikes can be rented at the hotel for free.
Laundry service
i
The hotel's laundry service is available for a small fee.
Room service
i
We provide room service for an extra charge.
Food & Drink
The Krallerhof is famed for its outstanding cuisine. In the Krallerhof kitchen, only the best ingredients from local organic produce are used. Combined with herbs and vegetables from the hotel's own garden, local meats and fish they create dishes that will tickle your taste buds. Be inspired by homemade specialities, including indulgent chocolates, delicious syrups and fine pasta. Our daily selection of breads and pastries served straight from the oven of our in-house bakery will make your mouth water.
Included services
Luxury board
i
Our gourmet board includes breakfast, snacks for lunch and tea as well as a five-course dinner at night.
À la carte restaurant
i
The hotel offers a great selection of à-la-carte dishes.
Vegetarian cuisine
i
The Krallerhof offers a variety of vegetarian dishes.
Vegan cuisine
i
Delicious vegan options are also available.
Services and information
Wine tastings
i
At the hotel, we have three expertly trained sommeliers, all happy to share their knowledge with you and recommend the best pairings.
Spa & Beauty
The Krallerhof spa offers everything relaxation seekers will expect from a luxury spa retreat in the Alps. It has a generous indoor pool featuring a unique slate sound dome, a pool in the beautiful hotel garden, four different quiet rooms, nine saunas and a steam bath, as well as an exclusive private spa. The 17 treatment rooms provide the perfect environment for guests to enjoy bespoke beauty and body treatments.
Included services
2500 m² Spa
1 Indoor pool
2 Outdoor pools
9 Saunas
Adults-only
Family sauna
Infrared
Private spa
i
The Krallerhof has an exclusive private spa, which offers relaxing experiences for two.
Treatments & Products
We help you find deep relaxation with an array of spa experiences, ranging from classic Swedish massage and acupuncture to lymphatic drainage, hot stone and shiatsu therapy. Our Ayurveda rituals make for a special highlight. Enjoy invigorating massages as well as highly effective beauty treatments or baths, using select beauty products by !QMS Medicosmetics, Ligne St Barth, La Biosthétique, Fuhlendorf, Haslauer and Balance Alpine 1000+.
Services and information
Massage
Body treatments
Treatments for two
Lymphatic drainage
Singing bowls
Fango
La Stone therapy
Ayurveda
Hair salon
Beauty treatments
Sports & Activities
The location of the Krallerhof is truly remarkable. The hotel is situated in the very heart of the mountains of the Salzburg Land, which offer plenty of opportunities for guests to be active. With over 720km of mountain bike trails, 480km of cycling paths in the valley and Europe's largest bikepark just around the corner, you are guaranteed a bike experience par excellence. The Krallerhof is also surrounded by a multitude of hiking trails taking you from the bottom of the valley to the mountain top. In addition, we have two 18-hole golf courses set in beautifu scenery. Access to one of Austria's largest ski resort, the Saalbach-Hinterglemm Skicircus, ensures skiers will get their money's worth as well.
Included services
Yoga
i
Experienced instructors regularly host yoga workshops at the Krallerhof.
Hiking
i
The imposing mountain world the Krallerhof nestles in is ideally suited for extended hikes.
Biking
i
Both hobby cyclists and avid mountain bikers will love the Leogang region and its many bike routes.
Golfing
i
Golfers will enjoy the putting green in our hotel's backyard.
Tennis
i
The Krallerhof provides free access to two tennis courts.
Skiing
i
The extensive ski region of Saalbach-Hinterglemm, Leogang and Fieberbrunn starts on the doorstep of the Krallerhof hotel.
Cross-country skiing
i
In Leogang, 150km of perfectly groomed cross-country ski tracks provide winter sports enthusiasts with a special treat.
Bike rental
i
The Krallerhof provides mountain bikes, helmets and maps for free for your bike adventure in and around Leogang.
Services and information
Sports guides
i
The Krallerhof offers personal trainings and the option of creating an individual fitness programme together with experienced fitness instructors.
Family & Fun
The Krallis Club offers childcare for children as young as two and a half years. The 300m² playground has everything from a climbing tower to fun slides and an arts and crafts corner for your little ones to get creative. In winter, our youngest guests can participate in our free children's entertainment starting at 15:30 every day. The Villa Kunterbunt kindergarten at the Asitz lift station will take care of children aged two or older while older brothers and sisters carve their first turns in the snow at the Krallis Kids Area next to the hotel or at Leo's Kids Area at the Asitz station.
Included services
Childcare
i
The Krallerhof offers free childcare for children aged two and a half years or older.
Kids club
i
The Krallis Club offers a vast playground for our youngest guests.
Youth entertainment
i
Youngsters can participate in our youth entertainment programme for free.
Youth club
i
The Krallis Club also offers action-loaded games such as air hockey for youngsters.
Family sauna
i
The hotel spa includes a clothed family sauna.
Kids entertainment
i
In summer we take your kids outdoors and when the weather is a bit inclement we play games at the Krallis Club inside the hotel.
Contact and directions: Krallerhof